Over the past 24 years, MRI has measured the service quality of leading banks (government, private, and foreign) in consumer banking through a Mystery Shopping programme. From the beginning, the purpose of the programme has been to motivate and aid banks in developing their service to customers. This research programme has been widely acknowledged to be successful in supporting banks to perform better in their service delivery and meet the ever-changing customer expectations.
MRI's mystery shopping programme goes beyond merely evaluating staffs' greeting manners and appearances. Rather, the study places much greater emphasis on customer experience and service delivery process quality. Bank Service Excellence Monitor (BSEMSM 2020) uses a set of parameters which are regularly updated with findings from in-depth studies on service expectations among banks' customers. Hence, the monitor programme measures services that are relevant to the current Indonesian bank customer's needs. Findings of the research are also being used for weighting the performances by the importance of the service aspects to customers. BSEMSM 2020's aim is not only in measuring the improvement of bank services but also to show how banks in Indonesia should prepare themselves for the future, in line with technological development.
This time the survey is covering Jakarta and one other city which is different from the previous year. The monitor includes both walk-in channel (branch) and digital channels, which comprise of e-banking (phone banking, mobile banking, sms banking, and internet banking). In 2020, the study is also covering banks' multi-channel contact center, such as call centers, chatbots, as well as social media and live chat services.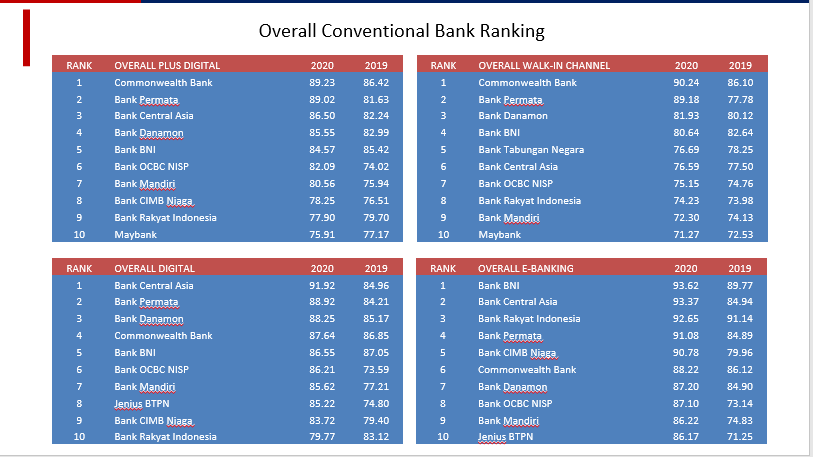 For each bank, up to 12 branches have been selected and visited twice by our mystery evaluators. They received service from the banks as do real customers. Their experience was noted and analysed. Results of this survey were compared with the previous year's (2019) study as much as possible.